The Iditarod dog sled race is an annual event first run in 1973, it's aim is to celebrate the pioneering days in Alaska when dog sled was the only viable means of transport in the long winters. In the winter of 1925 a relay of dog sleds covered the 674 miles from Fairbanks in Alaska to Nome in 127 hours 30 mins, that's 5 1/2 days, in order to deliver a shipment of serum to combat a diptheria epidemic that had broken out. These days Siberian husky teams can pull a fully laden sled over 25 miles averaging 3.2 minute miles!
The
Iditarod Invitational
runs a week before the dog sled race and is open to endurance athletes who choose to race over one of two courses. Knik to McGrath, some 350 miles or Knik to Nome, 1100 miles. Both races begin at the same time and place with a mass start. Racers generally either walk/run, ski or for the foolhardy - bike!
The 2004 race starts on 28th February and I and a few friends will be attempting the shorter of the two routes. Still, with 350 miles of sub zero temperatures, more hours of darkness than light, frozen rivers to negotiate plus the Alaska range of mountains - it won't be a stroll in the park.
After the race I will, hopefully, provide an account here of what went right and what went horribly wrong. The lead up to the race has been busy, more busy than any other trip I have undertaken - gone are the days when I could pack for a 3 week kayak trip in under 2 hours. The Iditarod is more than just packing a ruc sac, a few days of cold weather in the UK can be a discomfort, if you are ill equiped, in -20f to -40f Alaska bad preparation could be terminal.
For those interested I have produced a list of kit I intend to take to Alaska - what I end up with on the start line is another matter. The list is based on what I have gleaned from the internet and also draws heavilly on Andy Headings own well tested kit list.
The Bike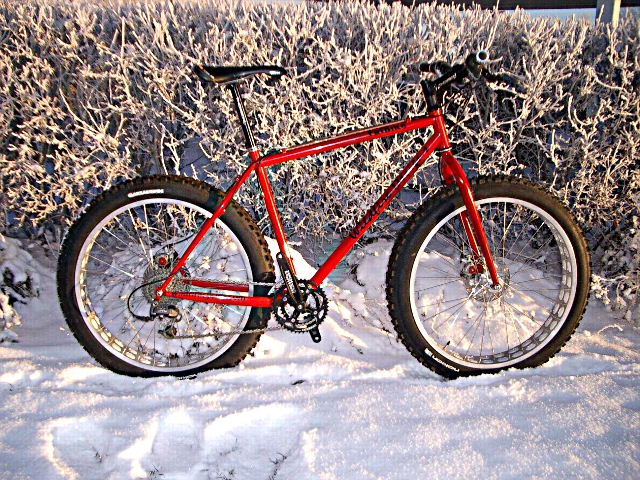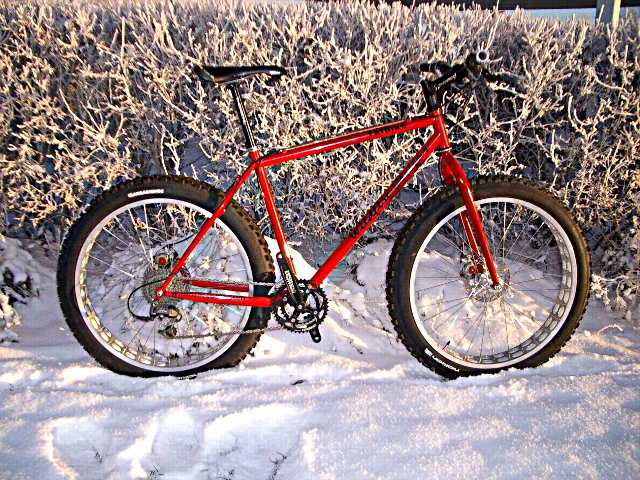 The Bike
The 19" frame is made from a Columbus Foco tubeset. Components include an XTR Rear mech, XT front mech, Race Face Prodigy Crankset, XT 9 speed 11-34 cassette, Avid cable pull brakes, Hugi 240 hubs, Oval drilled Remolino rims, Nokian Gazzaloddi 3.0" tyres, Thompson Seatpost and stem, TiTec Hellbent XC bars, Sram Rocket Shifters, Race Face Splined Bottom bracket, Selle Italia Trans Am saddle, Azonic pedals and weighs in at a svelt 31lbs.
It will be kitted out with a frame bag that sits in the main triangle, a Karrimor 10 litre bar bag, front rack and large rear seat bag. Fuel bottle sits in a cage on the underside of the down tube. Liquid is in a Camelbak.
Clothing
Until a few months ago I knew nothing about softshell technology - now I know a little bit more. I'll be carrying most of the following:
Patagonia DAS Parka
Patagonia MixMaster Jacket
Patagonia R1 base layer
Patagonia KruShell Jacket
Patagonia Integral Jacket
Pearl Izumi AmFib tights
Patagonia Integral Pants
Smartwool mountaineering socks and liners
Columbia Ice Field boots rated to -65f
Mountain Hardware Dome Perignon hat
Smith Slider Sunglasses
Moose Mitt Handlebar Pogies
Hardware
MSR XGK II Stove with 1L fuel bottle
MSR 2L Ti pan and Ti spoon
Black Diamond PolarStar head torch and Petzl Tikka backup
Garmin e-trex Summit GPS
North Face Dark Star -40f Synthetic (pathetic!) bag
Phoenix Goretex Bivi
Pentax Weatherzoom
First Aid
Camelbak Zoid
The usual bike tools
Food
My friend Andy calculated a requirement of between 6000 and 8000 calaries each day. That's a lot of food so a fair proportion of that is going to come from energy drinks. My own personal favourite is from Science In Sport. PSP22 is a high Carb drink, GO contains more electolytes and ReGo is a recovery drink. I'll probaly split 70-30 PSP22 - Go with a helping of ReGo once a day - ReGo mixes into a thick shake - Hmmm Banana!
I generally get sick of specialist energy bars, gels etc after a day so have tried to strike a balance with some savoury snacks. The list includes:
Youghurt coated peanuts and raisins - they are good at -18c (from my freezer)
Cashews, salted peanuts, roasted peanuts
Oat Cakes
Mushroom Pate
Strong Cheddar Cheese
Noodles
Cup a soup
Hot Chocolate
Porage Mix
Some energy bars
Chocolate coated marzipan - to sell to Carl at an extortionate rate when he's eaten all his food.
Trail Mix and dried apple.